Everything You Wanted to Know About UK Work Visa During Coronavirus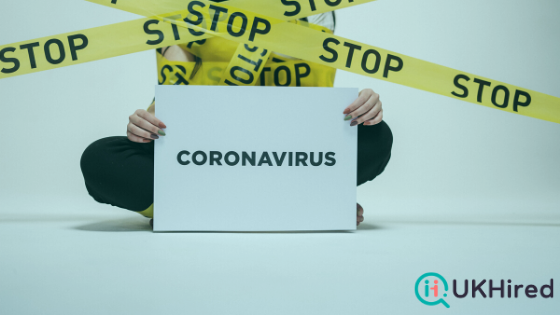 The Covid-19 pandemic has already left an immense impact on the economy and society of every state, including the United Kingdom.
In March 2020 the UK government introduced quarantine measures to prevent the spread of the new coronavirus, these include the lockdown and temporary business closures.
Recent economic indicators suggest that households and businesses in the UK are facing the largest economic downturn in living memory.
Many people are naturally worried about the consequences of the coronavirus that include loss of income, the rise of unemployment and other issues arising from the crisis.
Foreign employees who have been living and working in the UK on a work visa are particularly concerned about their job prospects and available support. The Covid-19 pandemic could have particularly severe financial and health consequences for migrant households.
The good news is that the UK government has introduced some immigration changes and extended its economic support to help Tier 2 sponsors and employees.
We have gathered the latest information relevant to the UK work visa to help current visa holders and those who are applying for a tier 2 visa cope with the crisis and find answers to their questions.
The information published here might be updated to reflect the changes, so keep an eye on this post.
If your leave expires between 24 January 2020 and 31 July 2020 while you are in the UK
Many people cannot go back to their home countries because of self-isolation, travel bans and reduced air traffic caused by Covid-19 pandemic.
If you are in the UK and your leave expires before 31 July 2020, you can lawfully continue staying in the UK.
There are two ways available for you, depending on your situation:
• If you intend to leave the UK after Coronavirus crisis is over and do not want to switch to a long term visa you can simply extend your current visa. You should contact the Coronavirus Immigration Team (CIT) and update your records by using this form. Please note that if you already applied for the extension up to 31 May 2020, your visa will be automatically extended to July.
• If you want to apply for a long-term visa and your current visa expires within the mentioned dates, you can do it within the UK. This includes applications where you would usually need to apply for a visa from your home country.
UK Visa application centres are currently closed
Due to Coronavirus most of the UK visa application centres around the world have been closed until further notice.
To find out information about your local visa centre, check out the website of UKVI commercial partners:
• VFS Global (rest of the world).
• TLS Contact (Africa, Europe and parts of the Middle East).
If you submitted your online tier 2 Visa application form and you have not attended your biometric appointment due to coronavirus
If you applied for the visa inside the UK and haven't been able to attend your biometric appointment due to coronavirus, there is no need to worry. You can do this once the biometric centres re-open.
Please note that even if you have an appointment scheduled, please do not attend this appointment. The UKVCAS will contact you and let you know when they resume their service. For more information, visit their official website.
Once the lockdown is over and you have booked a new appointment, you will need to take your passport, biometric residence permit (BRP), the appointment confirmation printout, and copies or originals of all of your supporting documents.
If you submitted your online application form and paid the government fees, this will automatically extend your current visa expiry date if no decision is made before the expiry date. This means, you will be lawfully staying in the UK and will be protected under section 3c leave of the immigration rules.
If you submitted your online tier 2 Visa application form and you have managed to attend your biometric appointment before the lockdown
If you submitted all the documents and your biometrics for your tier 2 application, this means that your visa application will not be affected by the current circumstances.
The Home Office caseworkers are working from home now, so they can review your digital supporting documents and make a decision on your application.
Please be patient, as the decision time might be delayed due to the lockdown.
Sponsoring an employee waiting for a Tier 2 visa application to be decided
The new Home Office guidance allows Tier 2 sponsors to have employees start work before their visa application has been decided subject to these conditions:
•sponsors have assigned you a Certificate of Sponsorship (CoS)
•you have submitted your visa application before your current visa expired; and
•the role you are employed in is the same as the one on your CoS.
This policy is particularly beneficial for migrants who are switching a Tier 2 sponsor and waiting for the decision on their Tier 2 Change of Employment applications.
If your visa application is unsuccessful and you receive a visa refusal, sponsors must terminate the employment.
What happens if your Certificate of Sponsorship (CoS) expired
If your CoS expired and you were unable to make a visa application in time or could not travel to the UK as a result of coronavirus, this certificate can still be accepted.
The Home Office guidance issued on 3 April confirms that if your employment start date has been affected by the coronavirus, your application will not be automatically refused.
It is important to note that the Home Office has caveated this guidance stating that such situations will be considered on a case by case basis.
Furlough (temporary leave)
The government has extended its furlough scheme to cover foreign national employees to prevent redundancies. The recent update by Chancellor Rishi Sunak confirms that the furlough will be extended until October. Employees will continue to receive 80% of their monthly wages up to £2,500.
This means that if Tier 2 sponsors cannot pay the salaries of sponsored employees due to coronavirus they can now reduce the pay to 80% of their salary or £2,500 per month, whichever is lower.
Although it is not implicitly stated, it is assumed that in the current extraordinary circumstances a sponsored migrant's salary can be below the applicable minimum threshold.
Extra support available
Unfortunately, if you are a tier 2 visa holder, you are not allowed to access public funds and claim most benefits, tax credits or housing assistance that are paid by the state.
However, there are still some options available to UK work migrants:
Working from home

As most of the offices are closed due to the national lockdown, people have shifted to working from home, including visa sponsored employees.
Normally, Tier 2 Sponsors would have to report such a change in place of work to the Home Office, but due to the coronavirus pandemic, no such report will be required.
Working for a different NHS site than your usual place of work

Similarly to the previous point about working from home, if you work in health care you can now work at a different site than you usual place of work.
Your employer no longer needs to update the Home Office about this.
NHS and health care workers can get a free visa extension
The latest government update states that foreign doctors, nurses and other frontline professionals may be eligible for a 1-year free extension to their work visa.
It is good to know that family members of sponsored migrants are also included in the scheme at no extra cost.
To be eligible you must meet the following conditions:
Have a visa that's due to expire before 1 October 2020.

Work for the NHS or an independent healthcare provider in an eligible profession.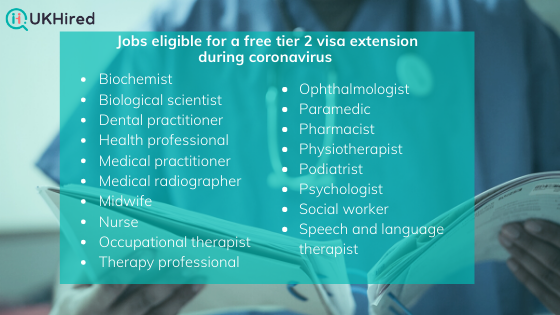 If you are unsure if your job meets eligibility criteria, you should clarify this with your employer.
In addition to these requirements, you should meet the general conditions for work visa extension:
You must have current permission to enter or stay on Tier 2 (General) visa.

You have the same job as when you were issued your previous permission to enter or remain in the UK
You're still working for the employer who assigned your certificate of sponsorship
You're still earning an 'appropriate salary' - read the

guidance

if you're not sure.
Note that you must be in the UK to extend your visa.
Switching a Tier 2 Sponsor
Finding new employment is difficult during coronavirus, but it is not impossible.
If you lost your job with a Tier 2 Sponsor, the Home Office will curtail your leave to 60 days ordinarily. If you have not yet found new employment, you can search for a new visa-sponsoring job in this period to avoid the 12-month 'cooling-off period'.

Note that if your job is not in the Shortage Occupation List (SOL), you should remember that your new employer must advertise the job ad for the 28-day days to pass the Resident Labour Market Test.

Coronavirus Immigration Help Centre
We hope that we managed to answer all the questions you might have had about coronavirus and how it affects your rights as a tier 2 visa holder or applicant.
If you still have some questions left, please contact the Coronavirus Immigration Help Centre via email: CIH@homeoffice.gov.uk.
Stay safe!