• Are you nervous about your upcoming job interview?
• Do you know how to prepare for the job interview in the UK and get UK work visa sponsorship?
Our guest Mike Muttiah, a career coach who has helped thousands of international students, shared his 5 favourite tips for crashing job interviews.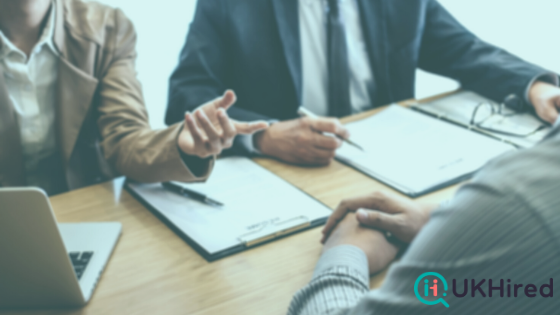 Mike Muttiah is the Founder of Job Ready English, a platform that helps international students succeed in the UK providing coaching, free courses, tips and news.
Over the last 7+ years, Mike Muttiah has worked closely with over 12,000 International students helping them through the interview process. He coached 200+ clients into top graduate jobs from PwC to Goldman Sachs.
Mike's Interview Success Tips
Everyone gets nervous before an interview, from a future CEO to a junior analyst.
Believe me, since 2013, I've prepped 200+ clients for over 1,500 interviews.
There is no magic trick for making the fear disappear, but follow these five steps to make preparing for an interview a breeze.
Do your Homework
When you sit down to write an essay, you don't just start writing and hope for the best. You do your research at the library, calculate, source and summarise.
You do your homework before homework.
Every interview is essentially the same; companies want to know:
Why do you want to work here?

Why you?
What makes you a good fit?
The questions can vary, but the result is the same. So do your homework by:
As well anything else that gives you an insight into what makes this company great, what you will do there and what type of questions you might be asked.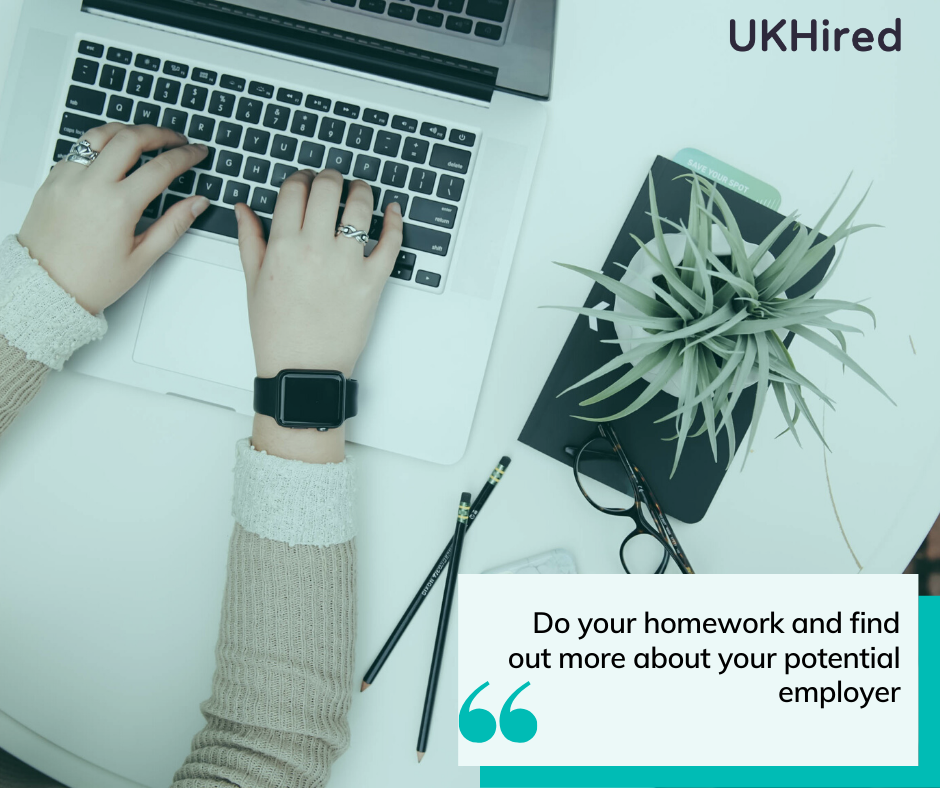 Use the 80/20 Rule
Have you done your homework? Good, if not, go back to Step 1 and come back when you're done.
You should have a list of facts, and a stack of questions (if the company is small or you can't find much information, then assume they will ask competency (STAR) questions and motivation questions (Why you, why this company and why this role).
Preparing answers for questions can be soul-destroying.
A quick tip.
You can't prepare for every question. Ever.
Just don't bother.
Instead use the 80/20 rule or Pareto's Law, in this case, that 20% of the questions will cover 80% of the outcomes. So if you have a list of 20 items, choose 4-6 that seem to keep coming up and prepare your answers for these first.
Prepare for every question, is preparing to fail in most cases.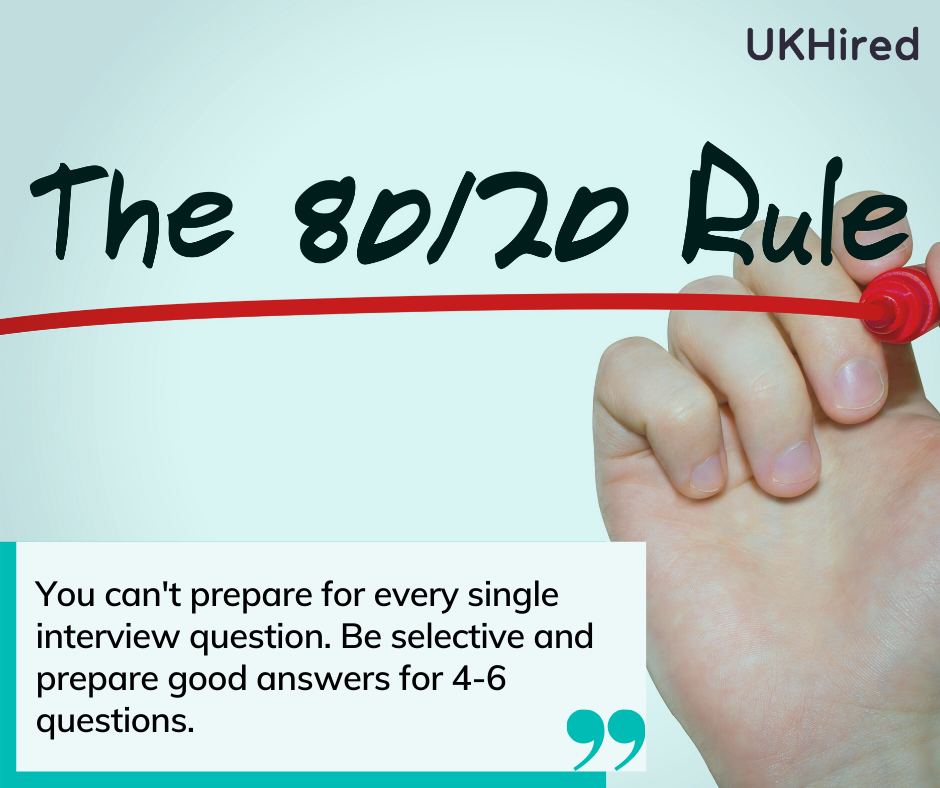 Scripts Suck
So you have your chosen questions.
You write a big beautiful script, a great answer you can read out loud word for word when the interviewer asks.
You assume if you memorise your script, then you will get that question and not have to think for yourself.
They say assumptions make an ASS out of you and me (assume).
Scripts are a great place to start, but as soon as you can put them down and start saying the answers out loud to yourself, in front of the mirror, waiting in line to get food and at the bus stop. The quicker you will have an easy answer you can give without notes.
This is also helpful when you (*gasp) get asked a question you didn't write a script for.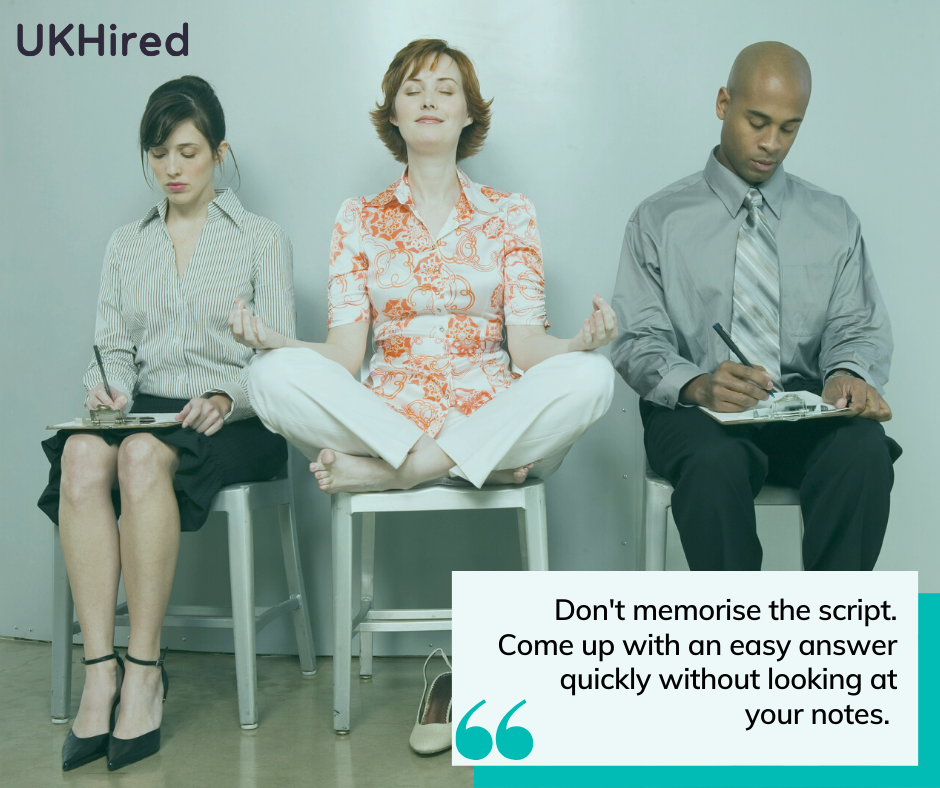 Speak don't Read
We use a simple method with our clients at Job Ready English when they prepare for an interview.
Called the "Rule of 3".
Anyone can do it. Most interview these days are done by video (98% of Fortune 500 companies now use some form of video interviewing).
Use this to your advantage.
Get your phone out, and record yourself answering an interview question. Now watch the video back. I guarantee your brain will be saying: "Oh, no, I didn't mean to say that" or "Why do I look so miserable there."
The mind is a beautiful auto-correcting masterpiece.
Repeat the same process for each question of recording, rewatching and correcting. You will be astonished at how much your answer will improve in 3 tries, and less than 15 minutes of practice.
Embrace mistakes
You are going to mess up. The interviewer will ask you a question you did not prepare for. You will ramble at some point and start to sweat.
That's ok.
Serious, everyone messes up a question or two during your interview. We expect you to do that.
Where people drive themselves mad preparing for an interview, is they want to write a script for the 100 most common questions. They practise for hours each day to memorise that script and by the time interview comes around, they are a nervous wreck.
Be ok with being perfectly imperfect.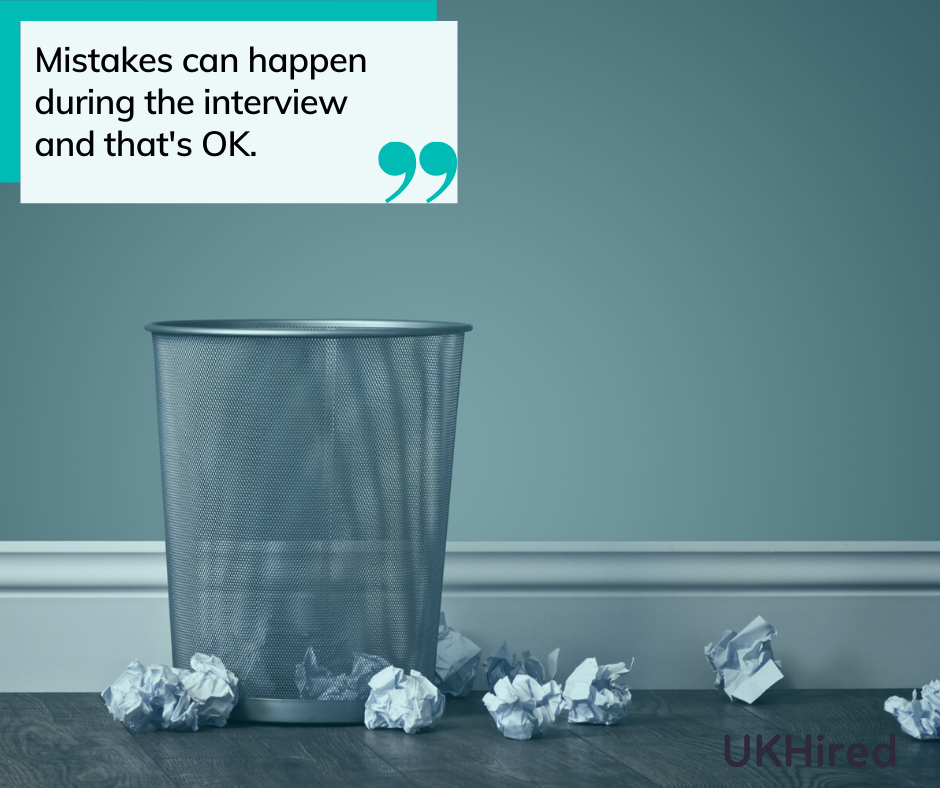 Practice Reasoning tests
UK interviews often involve aptitude tests before or after the job interview. Just like with the previous steps, preparation is key to successfully passing these tests.
Practicereasoningtests.com offers 12 different types of tests, including mechanical reasoning and cognitive abilities, completely for free. Pick your tests, depending on your job role or industry and get some practice!
Conclusion
If this is your first interview in the UK, you are already a boss. You are doing a job interview in your non-native tongue.
After every interview, you will get better, and through your mistakes, you will gain valuable feedback.
Don't stress yourself out about being perfect, or never getting another opportunity. There will always be more jobs for the best candidates.
If you want some extra help, Mike has prepared a special interview success course that will teach you how to pass any job interview.
Do you want to know the fastest way to prepare for a job interview so you can increase your chances of landing the job?
If you feel like you want some extra help with your interview preparation, this course might be just right for you.
Over the years of coaching international students, Mike has learned and created the BEST system to help dramatically increase the chances of you passing the interview stage.
The course includes:
✅ The 5 most common English mistakes from 25,000 non-native English speakers (and how to avoid them)
✅ Three English grammar changes that can turn you from a poor speaker to near-fluent
✅ The best questions to ask an interviewer
✅ The JRE Method for answering Competency Questions
✅ And SO MUCH MORE!
If you wish to take your interviewing skills to the next level then there is no online course for you quite like this.
Claim your early bird pricing right now to save hundreds.