Are you an international student studying at a British university?
Do you wish to live in the UK after graduation but don't know how to extend your visa?
Do you want to find out more about your post-graduation visa options?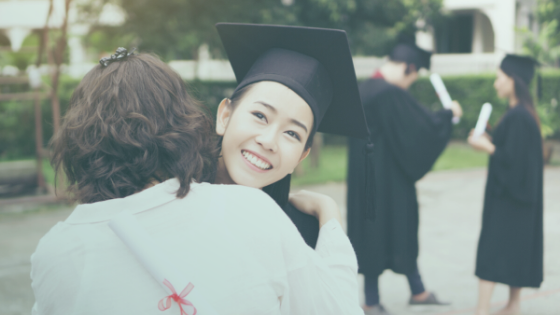 British education is widely recognised as one of the best education systems in the world. Britain is famous for its top-notch universities, highly-skilled academic staff and culturally diverse environment.
That's why hundreds of thousands of ambitious international students choose to pursue their academic qualification in the UK. Many of them quickly fall in love with the country and start dreaming of building their future here.
Although Britain attracts many international students, its rigorous immigration rules prevent most of them from staying after graduation.
Switching to a new visa can be extremely difficult, especially considering the busy lifestyle and heavy workload of international students in the UK. However, official data sources demonstrate that 1 in 5 non-EU students had valid leave to remain up to 5 years after their initial arrival to study by switching visa routes.
So, while it might be difficult, in fact, there are many different visa types that you can switch to after graduation to stay in the UK.
Today we will share the 5 most popular visa options and discuss their strengths and limitations.
Further studies
One of the most popular options for international students is to continue their studies and extending their visa. This route is quite popular because graduates often fail to find a job after receiving their Bachelor's degree due to a lack of experience and skills required. Hence, they choose to get an additional qualification. Also, some career paths require you to get a PhD or other doctorate qualification.
Switching to a Student (previously known as Tier 4) visa is relatively easy. You need to enroll for a new course, have a Confirmation of Acceptance for Studies (CAS) and demonstrate that you have sufficient funds to support your life in the UK.
Besides, you need to make sure that your new course is at a higher academic level than your current course or is at the same level but related to your career. Usually, that means that after a Bachelor's, you should get a Master's qualification. However, you can also complete another Master's degree if it's relevant to your career aspirations.
Some benefits of this visa include an easy visa application process and getting another qualification that could help in your future career development.
The main downside is that you are not allowed to be self-employed and have restricted work rights. Considering high student fees and limited work possibilities, this visa route might be too expensive.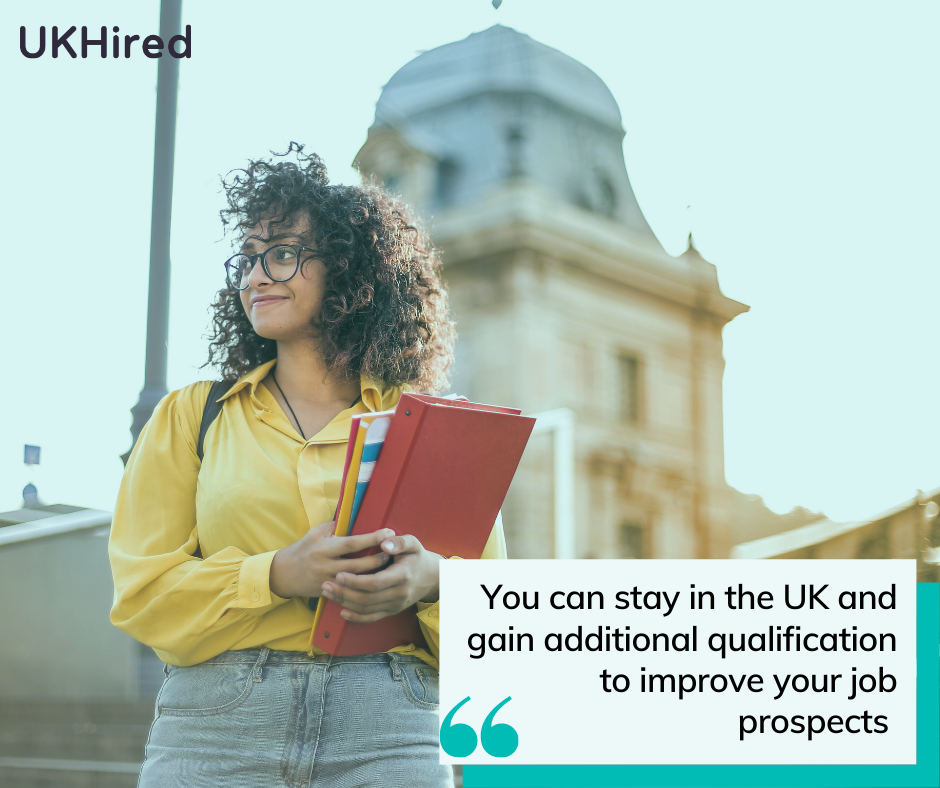 Skilled Worker visa
Skilled Worker visa, previously known as the Tier 2 General, is arguably the most desirable visa for international students. It allows you to work and live in the UK, and then get your settled status that leads to British citizenship.
In 2019-2020, over 9,000 students managed to switch from Student to Work visa, which makes up only a 3.6% of all international students who graduated that year. Although most students fail to switch to this visa, the number of people who get a work visa after graduation is steadily increasing. So, while it might be difficult, you can get this visa as an international student.
A number of factors make this visa so hard to achieve, including high competition for graduate roles, lack of jobs with visa sponsorship, and complex immigration rules.
Therefore, if you want to land a job in the UK with visa sponsorship, a good starting point would be to find out more about Skilled Worker visa requirements and think about the ways you could improve your job prospects.
The new immigration system that came into effect on 1 January 2021 introduced many positive developments. For example, international students are now classified as 'new entrants' to the labour market and can get an extra 20 visa points.
At UKHired, we help international students by selecting jobs suitable for visa sponsorship and calculating visa points for each job ad.
By using effective tools and investing your time into improving your CV, practising job assessments and interview questions, you can successfully get a Skilled Worker visa.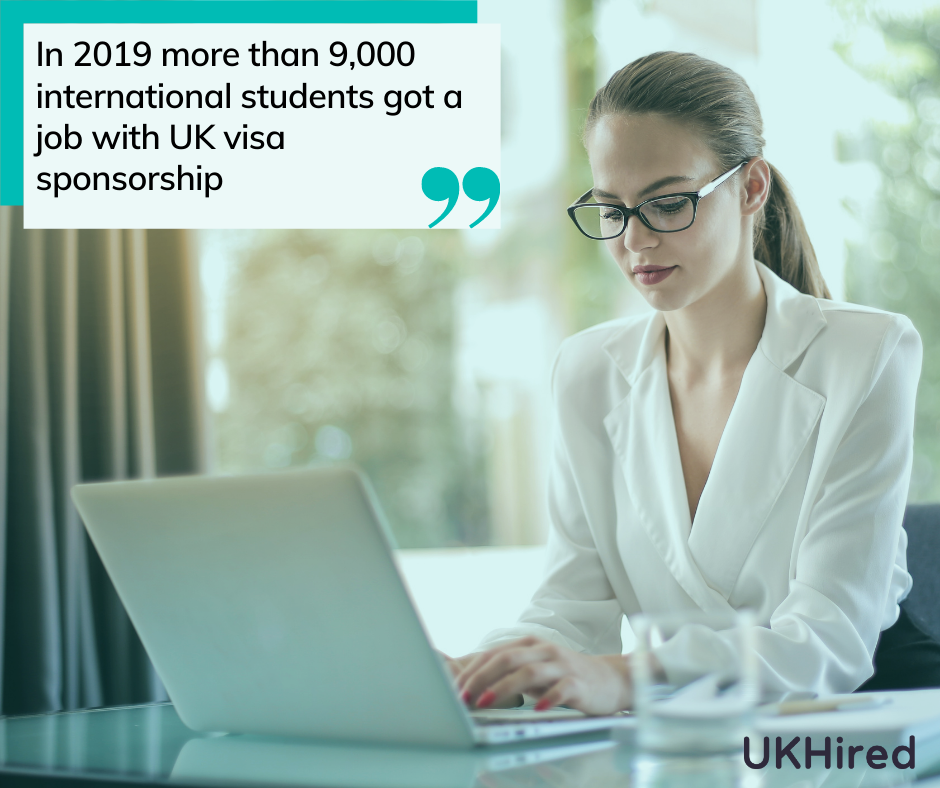 Startup visa
Startup visa was introduced in 2019, and it replaced Graduate Entrepreneur visa. This immigration route allows you to start your company in the UK, and study or work on the side.
Although it has many positive features, there is little information about it and it seems like many students are unaware of this option.
This visa type is designed for individuals with no previous business experience in the UK, who have an innovative business idea and entrepreneurial ambitions. You don't need to secure any investments, but you need to receive endorsement from one of the approved organisations.
Many British universities run business acceleration programmes and support entrepreneurial initiatives of their current students and alumni. So, if you are interested in launching your business, you should speak to your university staff about this visa route and whether they provide visa sponsorship.
If your university is unable to provide sponsorship, you can still be endorsed by other organisations.
While this visa offers many amazing opportunities, this route might not be for everyone. Entrepreneurial life is difficult and startup selection process in quite rigorous. Finally, you can only stay a total of 2 years on the startup visa, even if you change your sponsor. After this time runs out, you would have to leave or switch to another visa.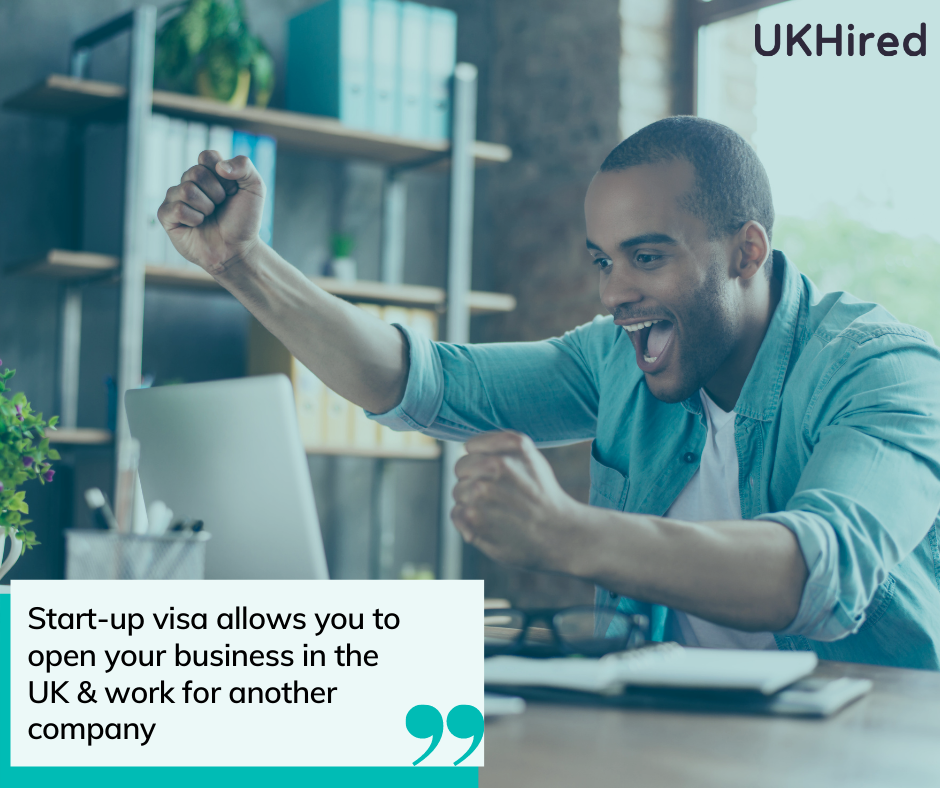 Global Talent visa
Global Talent visa is suitable for talented and promising applicants within the academia and research, arts and culture, and digital technology sectors. This immigration route replaced the Tier 1 (Exceptional Talent) visa in February 2020.
International students can apply for this visa under the 'promising' category reserved for individuals who show the potential to become leaders in their field.
Benefits of this visa scheme include unrestricted work permit and quick road to settlement in the UK. You can also stay on this visa for up to 5 years, and extend it as many times as you need.
Applicants only need to gain endorsement from one of six endorsing bodies engaged by the UK Home Office. For example, international students skilled in digital technology can apply for this visa with Tech Nation. Visa application process and visa eligibility criteria vary, depending on the endorsing body.
If you have enough evidence to receive sponsorship from one of the endorsing bodies, this visa might be the best option for you.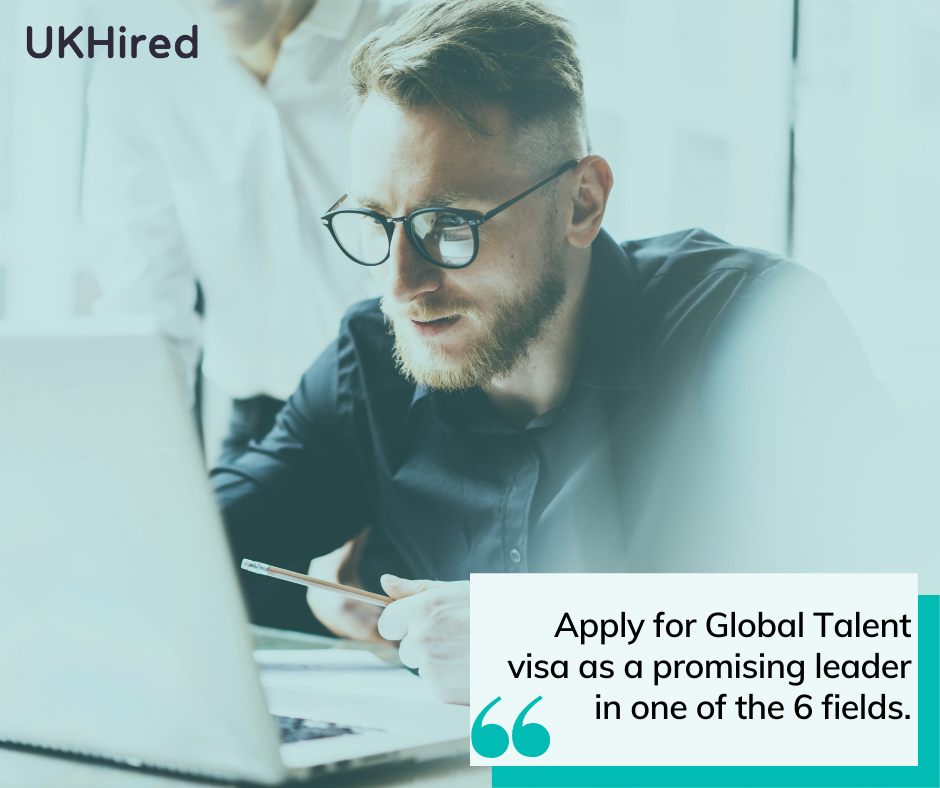 Post-study work visa
Many international students were excited to find out that British government decided to bring back the post-study work (PSW) visa route. This visa used to operate before but then was abolished in 2012 as part of the plan to reduce net immigration into the UK.
PSW visa is available to international graduates wishing to stay and work in the UK after studies, who graduate from 2021 onwards.
The scheme will be open to international students who have successfully completed a degree at undergraduate level or above, at a Higher Education provider with a track record of compliance and an existing Student (Tier 4) visa.
Due to Covid-19 pandemic, many international students are unable to come to the UK and have to study remotely. New Home Office guidance states that those who were studying courses that last longer than a year and that are not due to be completed in 2021 will still be eligible for the PSW visa, even if they have studied all or part of the 2020-21 academic year via distance learning.
Students starting a one-year master's degree in January 2021 will be eligible to apply for the graduate route provided they are in the UK by 27 September 2021 and complete the final semester of their studies in the UK. Those who studied their one-year degree before January, have to be present in the UK by 6 April 2021 and complete the final semester of their studies here to qualify for this visa.
If you are eligible for PSW visa, it will allow you to work with no restrictions for two years after completing your undergraduate or Masters degree in any subject, or up to three years if you have completed a PhD. This gives you plenty of time to gain work experience and find a job with visa sponsorship.
This visa scheme hasn't launched yet. Therefore we are waiting for further information, which we will share on this page as it arrives.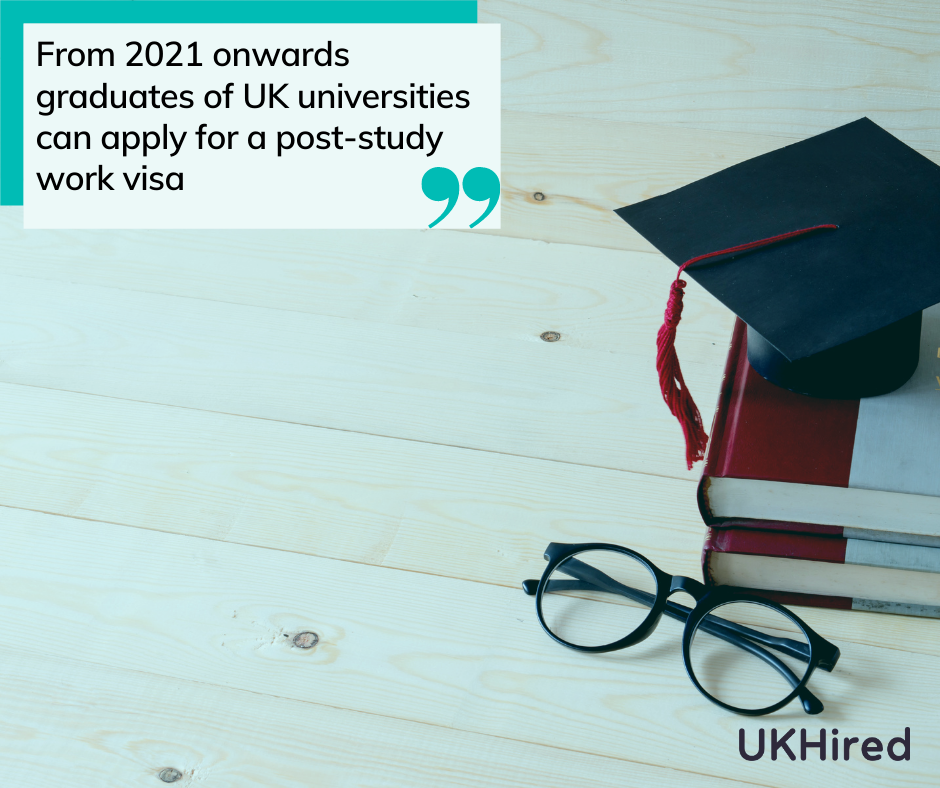 Conclusion
Visa Type
It's for you if:
Pros
Cons
How long you can stay?
Student visa
You wish to continue studying

• Easy to get this visa

• Improve your job prospects

• Limited work opportunities

• Expensive education and visa costs

• Stay for the duration of your course

• Then you have to switch to another visa

Skilled Worker visa
You wish to get a job

• You can work in the UK

• Quick route for settlement in the UK

• Complex immigration rules & lack of jobs

• Competitive UK labour market

• Stay for up to 5 years until you need to extend it

- Apply for settlement after 5 years

Startup visa
You wish to start your business and work

- Launch your startup

- You can also work on another job

- Have an original business idea.

- Tough selection process.

- Stay for a total of 2 years on this visa

- You cannot extend this visa

Global Talent visa
You have exceptional skills

- Work and study with no visa restrictions

- Quick route for settlement in the UK

- Tough selection process

- Demonstrate exceptional achievements

- Stay for up to 5 years

- After 5 years you can apply for extension or ILR

Post-study work visa
You graduated from 2021 onwards

- Work in the UK with no visa restrictions

- Easy application

- It's not implemented yet

- Doesn't lead to UK settlement

- 2 years if you studied at Bachelor's or Master's level

- 3 years if you studied at PhD level
While it might seem that staying in the UK after graduation is very difficult, in fact, there are many ways you could do it. Depending on your personal background, career ambitions and preferences, you have a choice of 5 visa routes.
Now that you know more about different visa options, you can decide which one you prefer and create an action plan that would help you achieve your goal of staying in the UK.
Don't forget to share this article with your fellow international students!