How can graduates find a job with visa sponsorship in the UK?
Who can score 20 points as a new entrant under the new points-based immigration system?
What is the right salary for new entrants?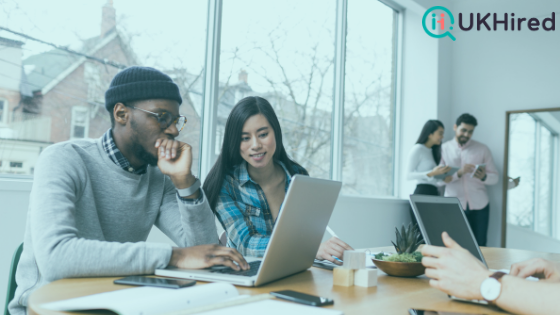 On 1 January 2021, the UK introduced a new points-based immigration system that applies to both EU/EEA and non-EU nationals. People from most countries (unless you are from the Republic of Ireland or Hong Kong) who wish to work in Britain must obtain a Skilled Worker visa, previously known as the Tier 2 General visa. The new work visa differs considerably from the Tier 2 visa, you can find out more information in this article.
Without going into details, there are 70 points that you need to get for a Skilled Worker visa. You must score 50 points by satisfying compulsory requirements and must obtain further 20 points either by satisfying one "tradeable" requirement or through a combination of points.
While some "tradeable" requirements, such as the right salary and a relevant PhD, are quite straightforward and self-explanatory, you are probably wondering how can you score 20 points by being a "new entrant".
In this article, we will cover everything you need to know about the new entrant requirement, and how you can benefit from it.
| | | |
| --- | --- | --- |
| Requirement | Points | Mandatory or Tradeable |
| Have a job offer from an approved sponsor (list of sponsors) | 20 | Mandatory |
| The job at an appropriate skill level - RQF 3 or above (A-level or equivalent qualification) | 20 | Mandatory |
| English language equivalent to level B1 or above (read more about the proof of English language here) | 10 | Mandatory |
| Salary (you can score different number of points based on your salary, the minimum salary rate is £20,480/year) | 20,10 or 0 | Tradeable |
| You hold a PhD relevant to the job (points depend on the subject of your PhD) | 20 or 10 | Tradeable |
| The job is in a shortage in the UK (see the top 20 SOL jobs in 2020) | 20 | Tradeable |
| You are a new entrant to the labour market | 20 | Tradeable |
How can you qualify as a New Entrant?
The new entrant category was added to the Skilled Worker visa route for young people and those who are only starting their careers.
There are three conditions under which you can qualify as a new entrant to the labour market and you only need to meet one of them:
If you are switching from the Student or Graduate visa
You are considered to be a new entrant if you are switching to the Skilled Worker visa from the following visas:
The Student visa, previously known as Tier 4, is a visa that is granted to international students who study in Britain. You can switch from this visa and get 20 points if you studied

at bachelor's degree level or above.

The Graduate visa is a new route that will be launched in summer 2021 to provide international students the opportunity to stay in the UK to work or search for jobs after they graduate. Undergraduate and master's degree students will be able to stay for two years under this route, whilst PhD students will be able to stay for three years. Migrants who hold a Graduate visa are able to work at any skill level during this visa. During this period you can find a job with a licenced employer who can then help you move onto the Skilled Worker route.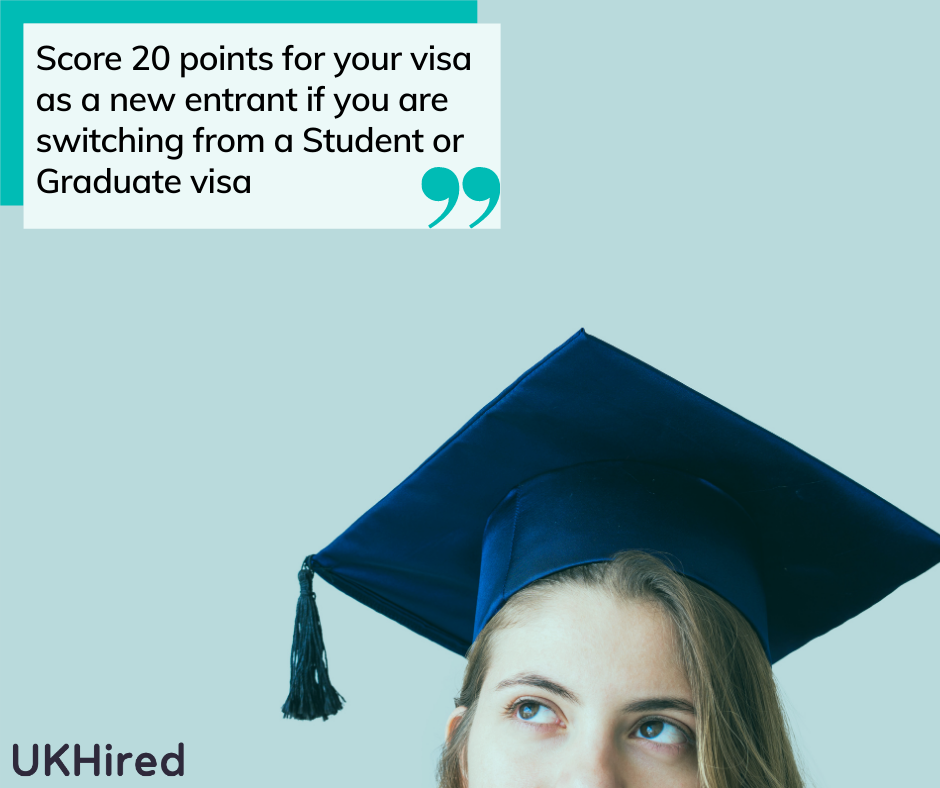 If you are under the age of 26
If you are not a recent graduate of the UK univeristy, you can still qualify as a new entrant based on your age. Anyone under the age of 26 can score 20 points for this.
Please remember that you have to be under this age limit at the time of your visa application.
For example, if you were born on 13 March 1995, you need to apply for a Skilled Worker visa in 2021 before your birthday. If you miss the deadline, you can no longer be considered as a new entrant.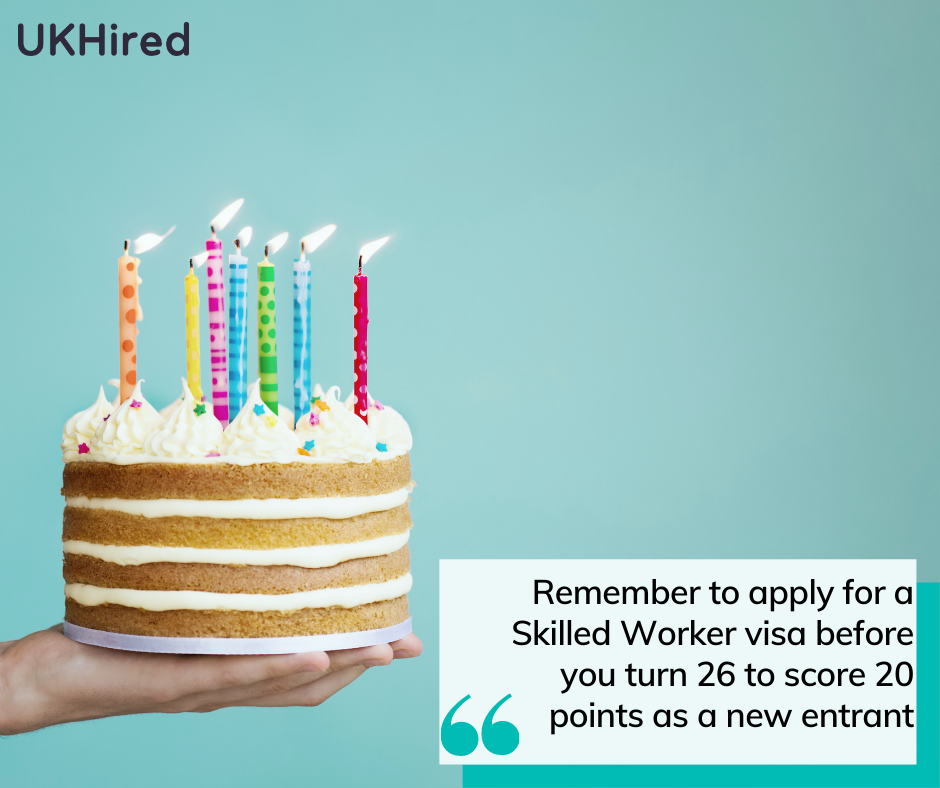 If you are moving directly into postdoctoral positions
You qualify as a new entrant if you recently completed a PhD and were offered a postdoctoral position in the UK.
Please note that only the following postdoctoral occupations are valid for this route:
| | | |
| --- | --- | --- |
| SOC code | Occupation group | Job title examples |
| 2111 | chemical scientists | analyst chemist; chemist; development chemist; industrial chemist; research chemist |
| 2112 | biological scientists and biochemists | biomedical scientist; forensic scientist; horticulturalist; microbiologist' pathologist |
| 2113 | physical scientists | geologist; geophysicist; meteorologist; oceanographer; physicist; seismologist |
| 2114 | social and humanities scientists | anthropologist; archeologist; criminologist; epidemiologist; geographer; historian; political scientist; social scientist |
| 2119 | natural and social science professionals that are not elsewhere classified | Operational research scientist; medical research associate; research assistant; research fellow; researcher; scientific officer; scientist; sports scientist; university researcher |
| 2311 | higher education teaching professionals | fellow; lecturer; professor; tutor; university lecturer |
If you are working towards recognised professional qualifications
The UK government specified that you can be considered as a new entrant if you are working towards a qualification within a recognised professional body.
Please note that you can be considered as a new entrant only if you are working towards a full registration or chartered status in a UK regulated profession.
Examples of these professions include charted civil engineer, charted accountant, charted surveyor and many more.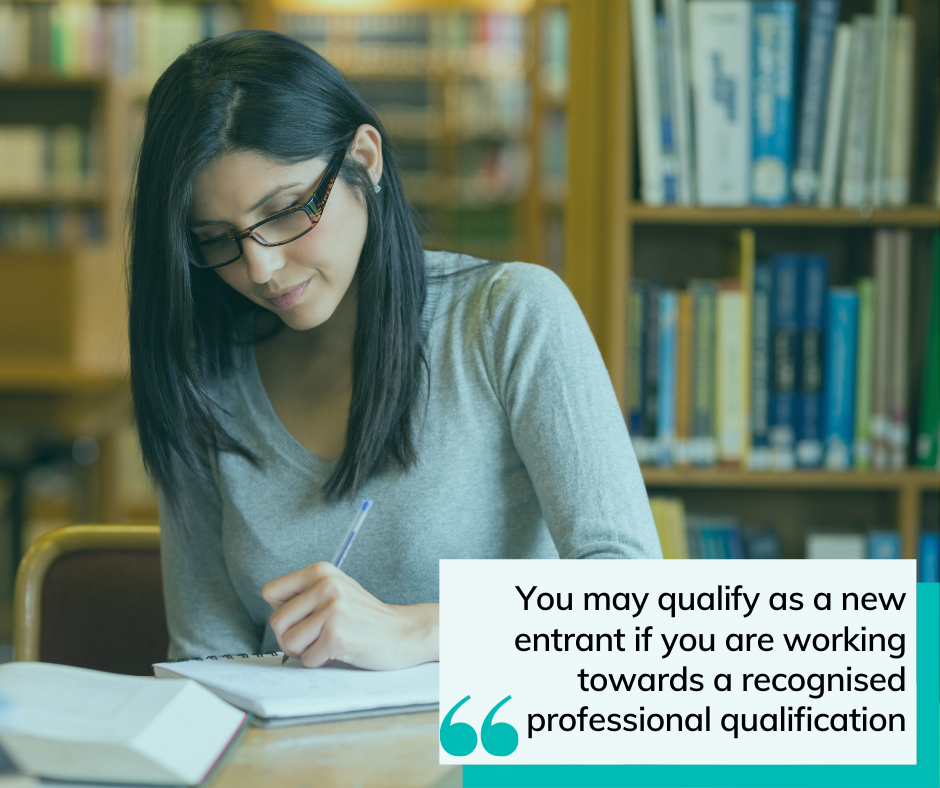 What is the appropriate salary for new entrants to the labour market?
If you meet one of the conditions for the new entrant visa, you can score 20 points needed to complete your Skilled Worker visa application.
However, you should also note that you are being paid the right salary to qualify for the visa under the new immigration system.
While most other applicants must match their offered salary to the going rate in their occupation, new entrants can have a 30% discount from the going rate. This means, that new entrants can be paid less than the general applicants.
However, the base rate remains at £20,480. Therefore, if the new entrant salary is lower than the Skilled Worker threshold, the minimum salary for that job would be £20,480.
Below you can find examples of how the new entrant 'salary discount' applies.
SOC code
Occupation
Going rate
New entrant salary (70%)
2421
Accountant
30,000

21,000

3545

Business development manager

35,400

24,780

2119

Researcher

33,000

23,100

2135

Systems analyst

36,600
25,620
2137

Web designer

26,000

18,200

20,480
Bonus tip:
After reading this article you are able to easily identify whether you meet the new entrant requirements. Now you need to find the right job from an approved sponsor.
UKHired selects jobs based on their visa eligibility and calculates points for each job ad.
Good luck with your job search!